Scored another big paper towel roll from our recycling bin, so I decided to make a fallen tree instead of another upright one.
Like the other trees, the fallen tree started with a paper towel roll, scrap cardboard, some CDs, and my hot glue gun. I made the root ridges lower so the tree would sit mostly level, and glued on a few random bits of cardboard to break up the surface of the paper towel roll a bit. All the ridges are made of two strips of cardboard, so they're a bit thicker.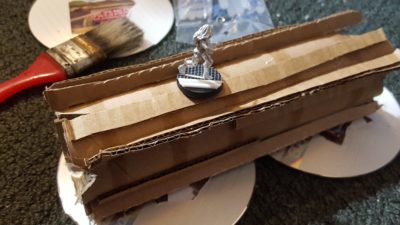 I used a pair of CDs as a base, and didn't bother filling in the gap between them.
Right after assembling the fallen tree (I love hot glue, there's no waiting for glue to dry or cure!) I got to work with white glue, some paper towel, and toilet paper for bark texture. I filled in the two ends with scrap cardboard and a bunch of paper toweling, added some ridges of paper towel here and there, then covered the whole thing with toilet paper, pushed into place with a damp brush and sometimes my fingers, with extra white glue drizzled on as needed to make sure everything was well stuck down.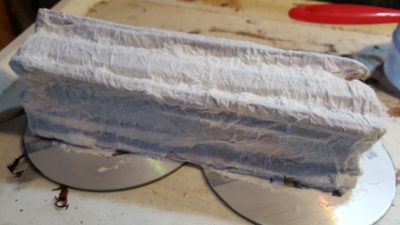 That needed to dry overnight, so the next evening I got the basecoat done, mostly brown paint with a bit of black and some tan to add a bit of variation, with a squirt of white glue mixed in for extra strength.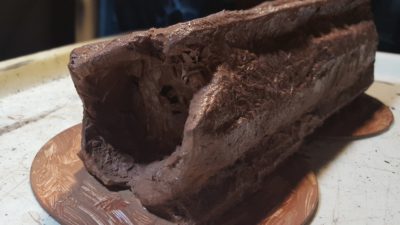 After the basecoat had dried overnight again, I did some drybrushing with tan and white paint to bring the bark texture out, then splodged on some green paint in two different shades here and there. That didn't really need any drying time, so I got the hot glue gun out again and the box of random plastic plants and other greenery. I finished the fallen log off with a mixed batch of plants and foam, then ground foam grass over the base and here and there on the log as well, and declared it done!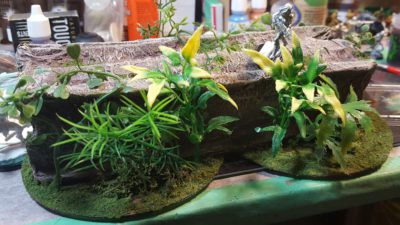 The finished piece is about 9″ long, 3″ wide, and 2.5″ tall. I'm looking forward to adding it to my jungle themed tables!