For our Forestgrave games I wanted some decidedly weird scenery, stuff from the other side of reality that doesn't quite look like it obeys physics as we understand it. I wanted a lush, not-quite-overgrown-but-almost faery realm thing going on, what in D&D is called the Faewild.
It turns out that, far as I can tell, that's not a super common theme for wargaming terrain, which surprised me. Maybe I haven't discovered the magic search terms in Google or YouTube to let me find the other folks doing weird natural terrain yet. If you know of any, let me know in comments, please!
Anyway, I started with a scrap CD, hot glued some washers to it for ballast (because I knew I wanted my final tree to be five or six inches tall), and then used the light cardstock from a Frostgrave figure box to start forming the trunk, with lots (and lots) of hot glue to hold everything down and together, fill gaps, and add some texture to the trunk.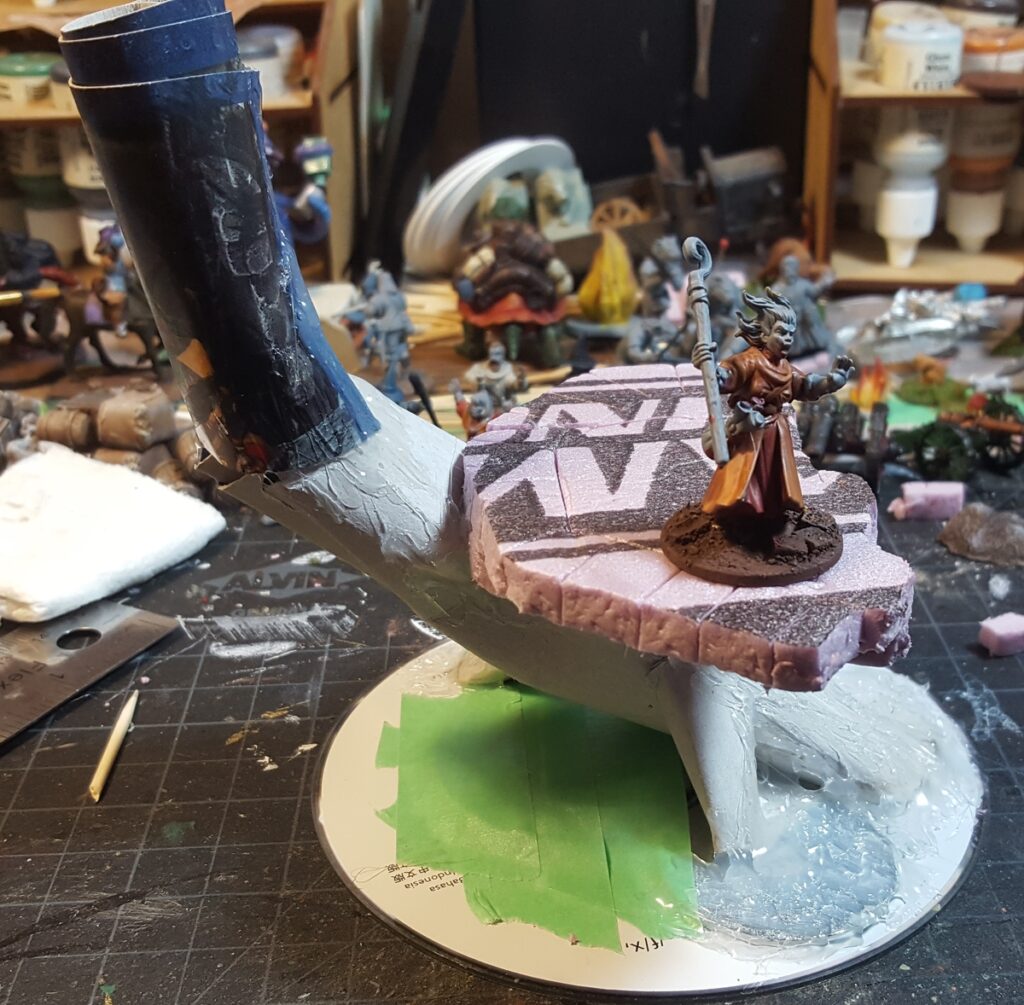 The stone platform is half inch foam insulation, cut as if it had at one point been octagonal before splitting in half somehow. I spiked a toothpick into the foam and then down into the cardboard of the trunk, and it's solid enough to hold large metal figures without worrying me, even though it's only attached to the trunk at a single point.
I pushed a couple of toothpicks into the trunk in a few places, securing them with more hot glue, then covered the entire tree with clean toilet paper slathered with white glue. Push it around a bit with a stiff wet paintbrush and extra white glue as needed, let it dry overnight, and it's fantastic easy cheap bark texture for bigger trees. I first used this on my big jungle trees for Infinity a few years ago, and it's fantastic.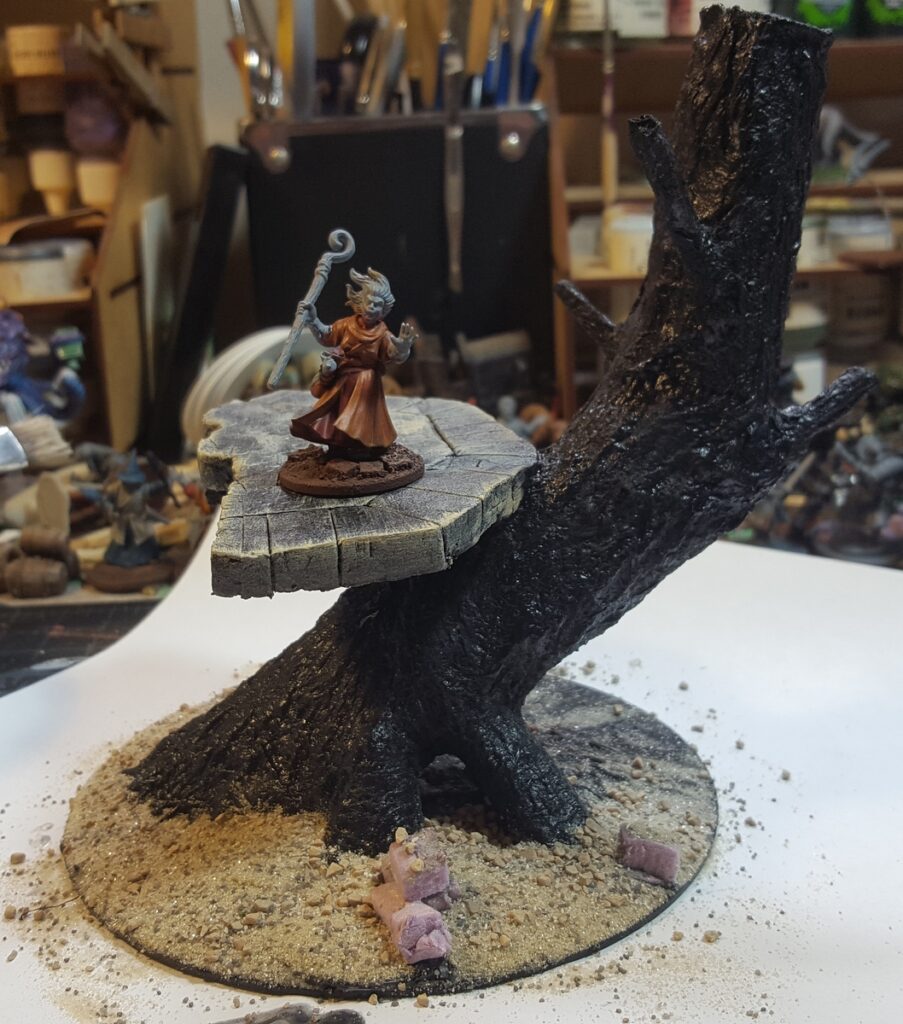 Next step was black acrylic craft paint, mixed with a generous amount of white glue for extra strength. That took a while to dry on the tree, so I stuck sand and grit onto the base while it was still wet, as well as adding a few bits of scrap foam for stone blocks.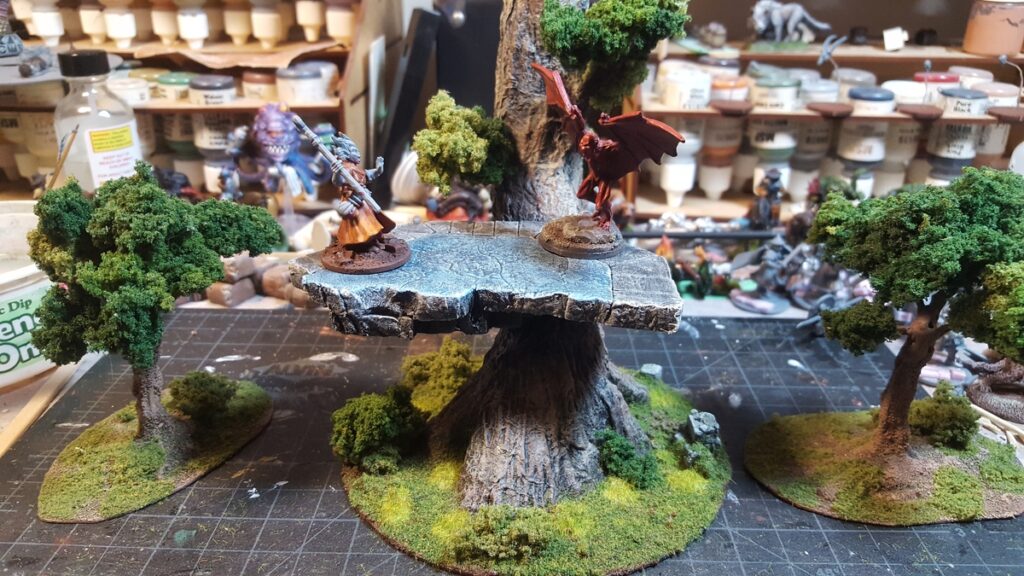 The platform got the same black primer, then various shades of grey, tan, pale blue, and white on the stone. I shaded the centre section with blue ink, then used both pale blue and white as final drybrushed highlights.
The two smaller trees in the photo above, incidentially, were made from wire and hot glue several years ago, got put away unfinished, and I just found them last week while looking for something else. They got extra basing materials and tree foliage alongside the big one, and are finally finished, at least five years after I started them. Yeah, I'm organized.
The base got foam foliage bushes, a base coat of my usual mixed grass flock, patches of several other types of flock, a few mushrooms from Bad Squiddo Games, and then a lot of tufts, both grass and flowers.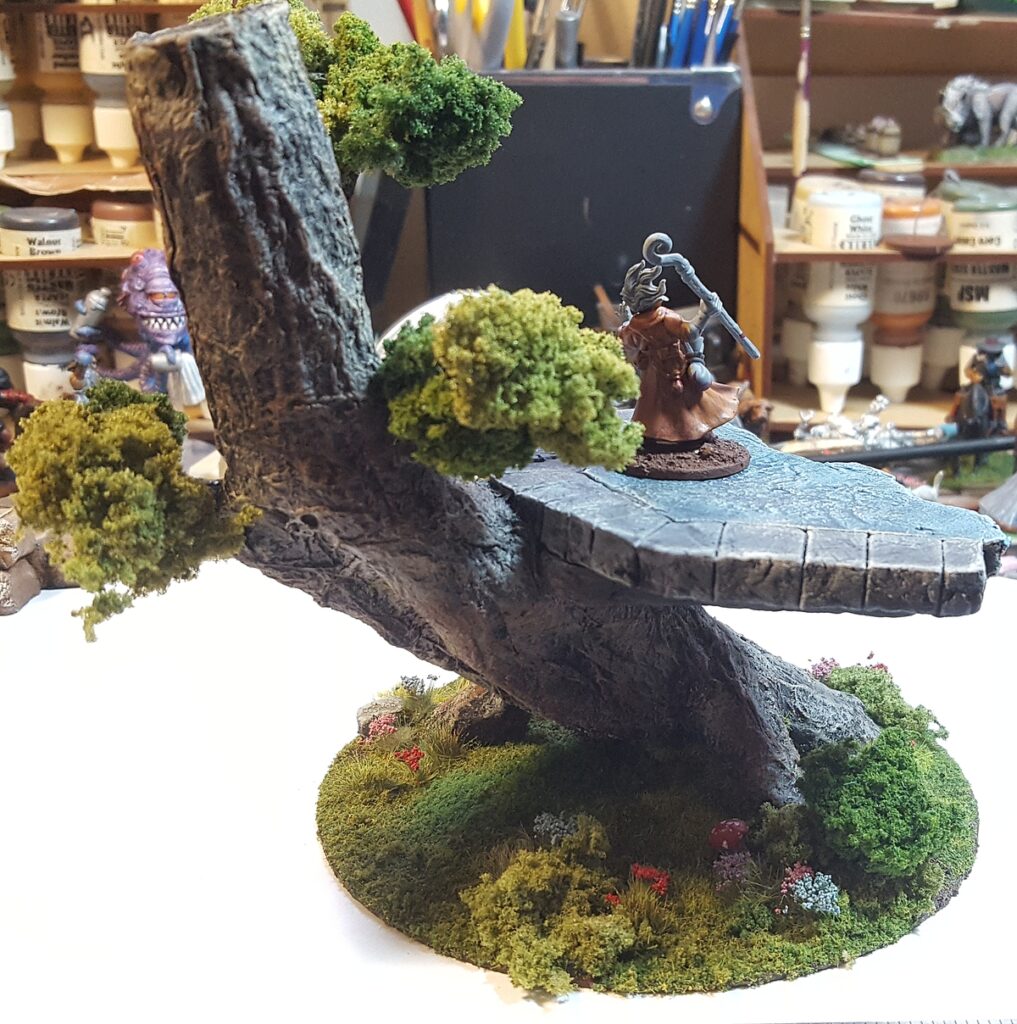 The grass and flower tufts are mostly from Rain City Hobbies, who do all sorts of great stuff including a bunch of styles of grass and flower stuffs at really good prices. I've been using the flowers on my English Civil War/generic English terrain already, and dailling them up higher to get that fae-touched lush look was the right choice, I think.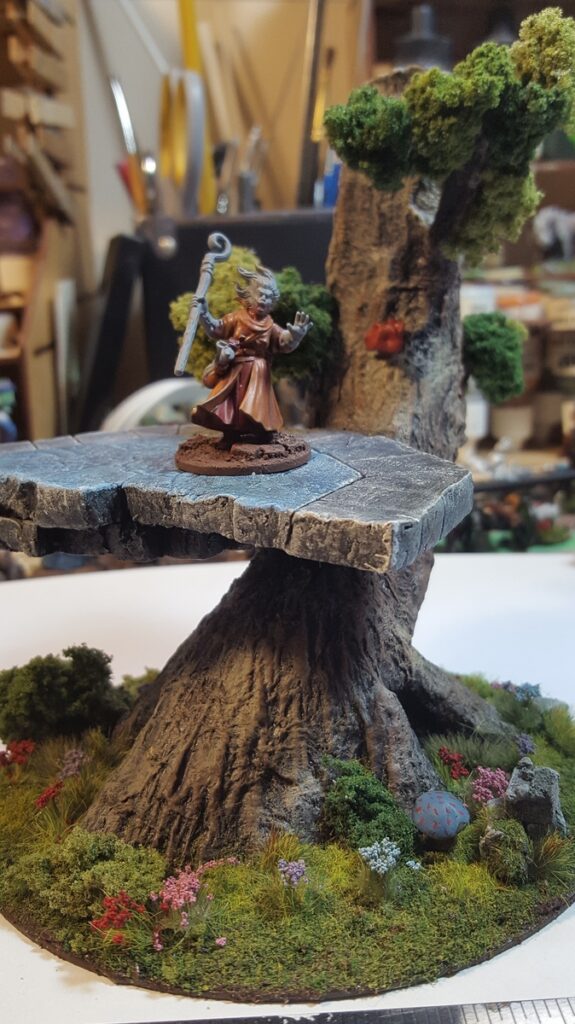 There's still room for figures on the base, despite the abundant plant life, and I'm looking forward to doing more scenery like this soon!
And again, if you have a line on good inspiration for this sort of faewild overgrown haunted woods scenery, please let me know!