Horses in colours other than brown!
Armour in colours other than silver!
Dogs and cats living together! Chaos and disorder!
Well, something like that. Horses and armour, at least.
I realized that all twelve horses for my regular ECW cavalry are all brown. Every last one of them. There's a bunch of variation in tone, mane colour, stuff like that, but they're all bay, which is horse-speak for brown. Well, some of them might be chestnut, which is horse-speak for "lighter reddish brown", more or less. For the six horses I needed for the current batch of cuirassier I decided to mix it up a lot. There's a white horse, two different shades of grey, two different bay, and one black horse.

Unfortunately I totally forgot to write down any of the paint mixes or layers I used for this batch of painting, so I'll have to re-invent the wheel, or at least the horse paint, next time I do horses!
For the armour, I put pins up into the backsides of all six cuirassier, making them extra-long to make painting easier. Then I used a scrap CD, two lengths of scrap wood, and my hot glue gun to create a very useful little painting stand, seen in the photo below.
All six riders got all their armour basecoated bright silver (Reaper's True Silver), then various inks and washes were layered over to try for a treated-metal appearance as discussed in my last post on coloured armour.
GW's washes don't work as a base layer for this, I discovered right away. They're not designed to stay on flat surfaces particularly well, although they shade crevices and lower areas of a surface very nicely. I used India ink for the three blacked armour sets, Reaper's Red Ink for the russeted armour, and FW Artist's Acrylic Inks for most of the rest of the colour.
The three blacked armour riders were basically done after one coat of thinned India ink, and then I went back in with metallic paint to do some of the edges and highlights, especially on the rider in the foreground of the photo with the hammer and plume.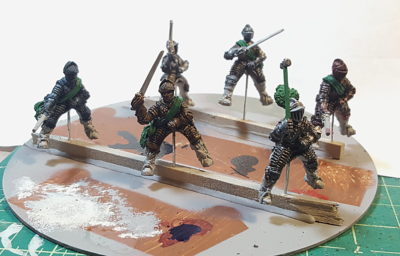 The two russetted armour guys and the one blued rider (far left) got at least a couple of more layers, including either very, very thin India ink or GW's Nuln Oil to darken the bright initial ink coat. The blue guy especially looked incredibly bright and weird after his first coat of just blue ink – my girlfriend saw him and said, "Seventeenth Century Power Ranger!" and damned if she wasn't right…
I've also discovered that these guys are nearly impossible to get a decent photo of in their current setup, the above blown out and fairly crap photo is less crap than all the rest. I'll try for better pictures once the riders and horses are all attached to each other. Still to do is boots, saddles, faces, and weapons.
I'm really pleased with how these guys are turning out so far, and I think they'll look great on the tabletop once they're all finished. Ink over silver is definitely a win for doing coloured armour!