Most naval rules have spotting and target ID rules of some sort or another, often with various stages of "we think something's out there" through "there's probably a ship over there" to "It's a German S-boat and it has started shooting at us!" or similar.
For example, Coastal Patrol published by TwoFatLardies uses both Blinds (for small groups of ships or dummies) and Markers (for possible individual ships, or dummies) so I've done up both 2″ and 1″ numbered tokens, designed to be printed on light card and then punched out or cut out for tabletop use.
The current PDF covers all the major combatants – the British Royal Navy, German Kriegsmarine, Italian Regia Marina, United States Navy, and Imperial Japanese Navy, and also includes generic Red Force & Blue Force markers, all numbered 1 through 12 in both 2″ and 1″ sizes. It's available in both Letter (for those of us in North America) and A4 (for the rest of the world) for easy printing.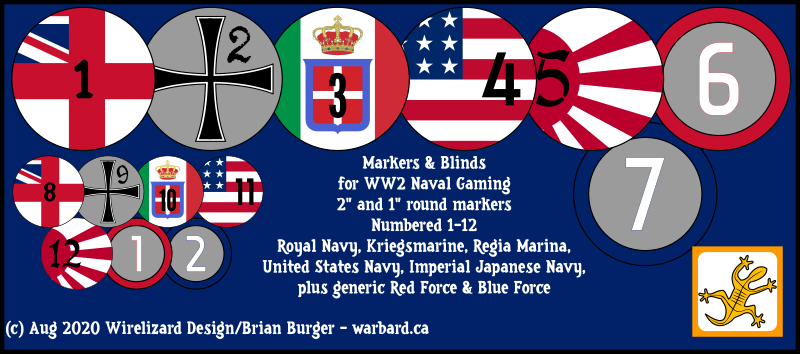 I might do up a second set of extra markers numbered 13 through 24 for larger scenarios; that would be straightforward enough.
Earlier this year I also did up a simple set of printable Star Shell & Moon Markers for naval gaming that you might also find useful.
If there's any other combatants you'd like to see added to a future set, please let me know in the comments. Some of the larger Commonwealth navies, the Soviets, the smaller European nations?