More detailing on 1/1200 scale ships with plastic broom bristle. I've added cargo handling booms to the masts and kingposts of two of the Antics 3d printed merchant ships.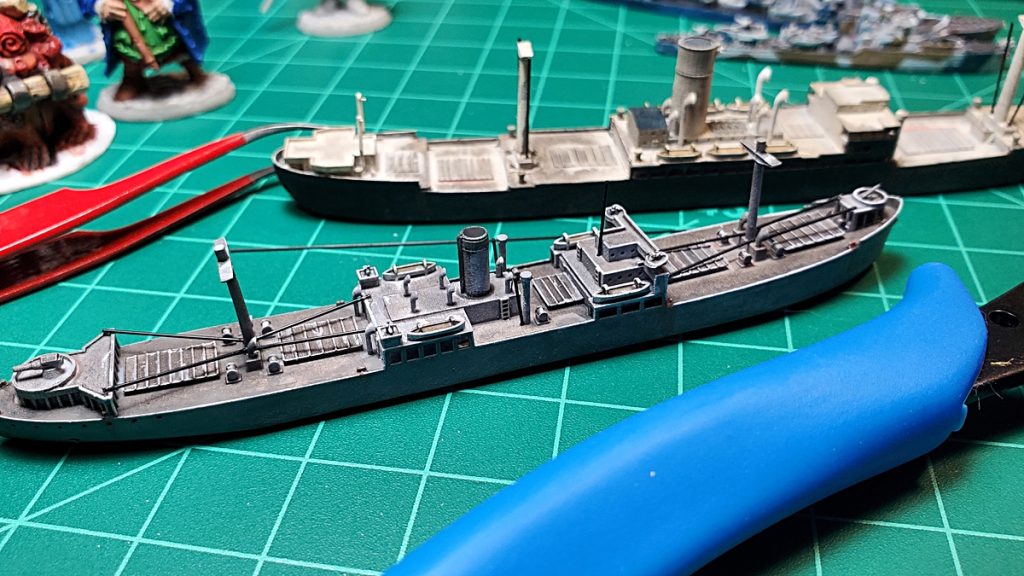 For the mostly vertical booms at the kingposts and on the Ehrenfels I drilled holes into the deck with an absurdly tiny drill bit; the horizontal booms on the front and back decks of the Fort are just held in place with a dab of superglue at each end. On the Fort freighter I also put a radio mast immediately aft of the bridge.

I did the Fort freighter's booms the same base grey as most of the ship, and the Ehrenfel's the same ivory/off-white as her upperworks and deck. The plastic broom bristle takes ordinary acrylic hobby paint just fine.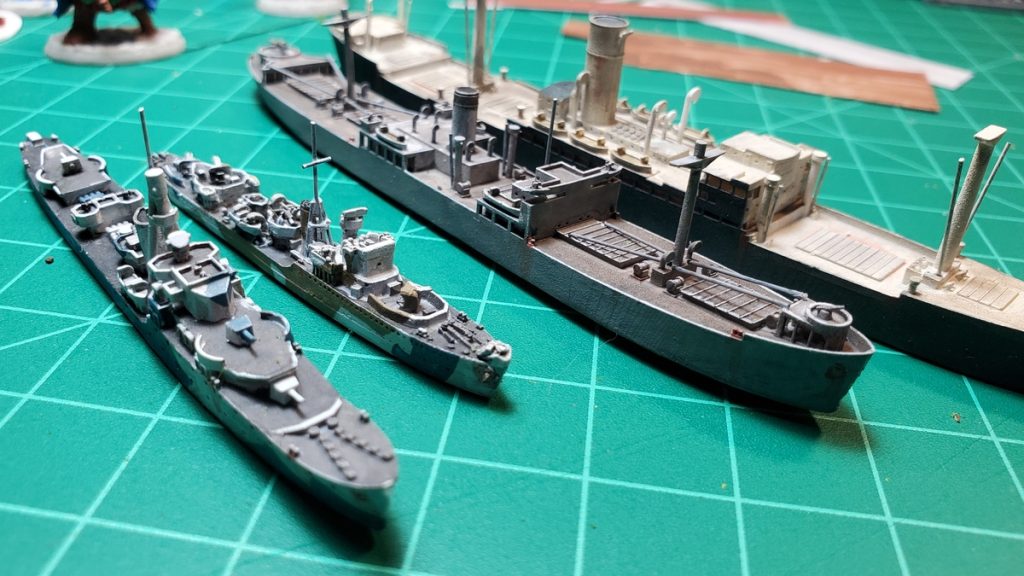 The other three Antics 3d ships will all get at least a few cargo booms, and at some point I need to pull out my main collection of Figurehead pewter ships and do the masts on those as well. The Figurehead ships come with pewter masts, but they're terrifyingly fragile and I've mounted exactly none of them so far to any of my Figurehead collection!
A Word on Tools
All of this detail work was made much, much easier (really, was made possible, full stop) by an off-the-cuff purchase I made just before Christmas – a pair of inexpensive Excel brand "Slant Pointed Tweezer" superfine curved tip tweezers. Far finer than the even cheaper drugstore tweezers and well worth it if you want to do this sort of detail nonsense at 1/1200 scale!

Handling the super thin plastic broom bristle by hand is awkward and frustrating; the stuff is hard to even pick up off a cutting mat. I'm fairly sure I'd have given up on this detailing very early if I hadn't snagged these at my friendly local hobby store.