From the excellent people running Dark Fantastic Mills I purchased this Doomcap Shrooms Bundle earlier in the year. If you want to run fantasy games, you should, I think, have fantasy scenery. If you want to fight amongst perfectly ordinary trees, run a historical game, those are fun too.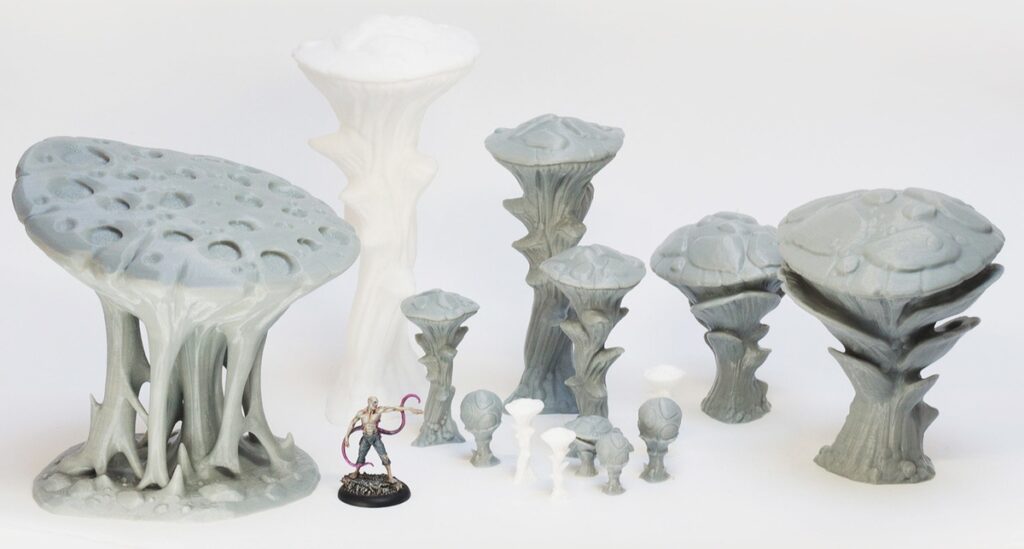 These mushrooms are all 3d printed in FMD; you can see some layering here and there, especially across the broad flat tops of some of the bigger mushrooms, but other than that they're wonderfully sculpted and beautifully detailed pieces of scenery. And BIG – check out that roughly human sized figure in the Dark Fantastic Mills shop photo above!
With "fantasy scenery should look fantastic" in mind, I cut loose and did up this lovely batch of 3d-printed giant 'shrooms (and their smaller brethern) in gloriously weird colours. Reds and purples and vivid blues and greens, all the colours I usually use sparingly here and there came out in force.
I started with a dark grey spray primer coat, then did a rough drybrush of pure white. All of the colours after that got cut at least 1:1 if not more with glaze medium, so the original drybrushing mostly showed through and the various colours layered and blended fairly smoothly. I've posted this link before, but go watch Dana Howl's 24 minute intro to glaze medium on YouTube, it really has changed the way I paint and these giant mushrooms would have looked much less interesting without her influence.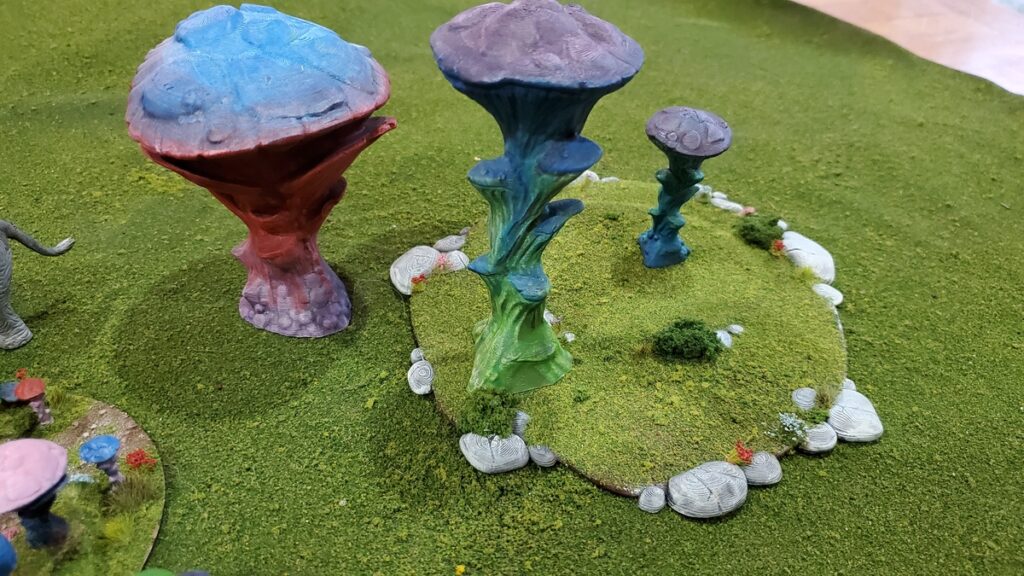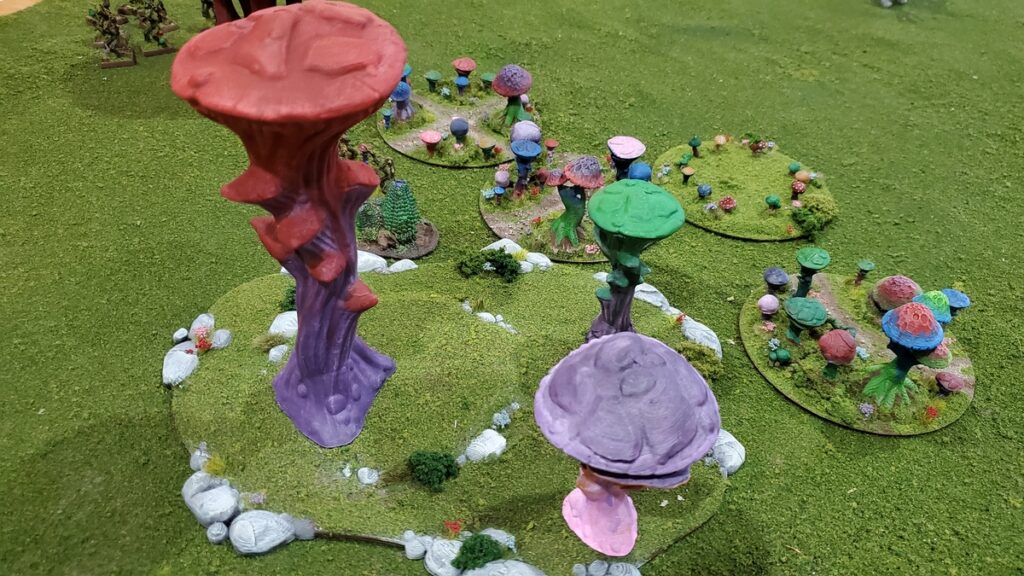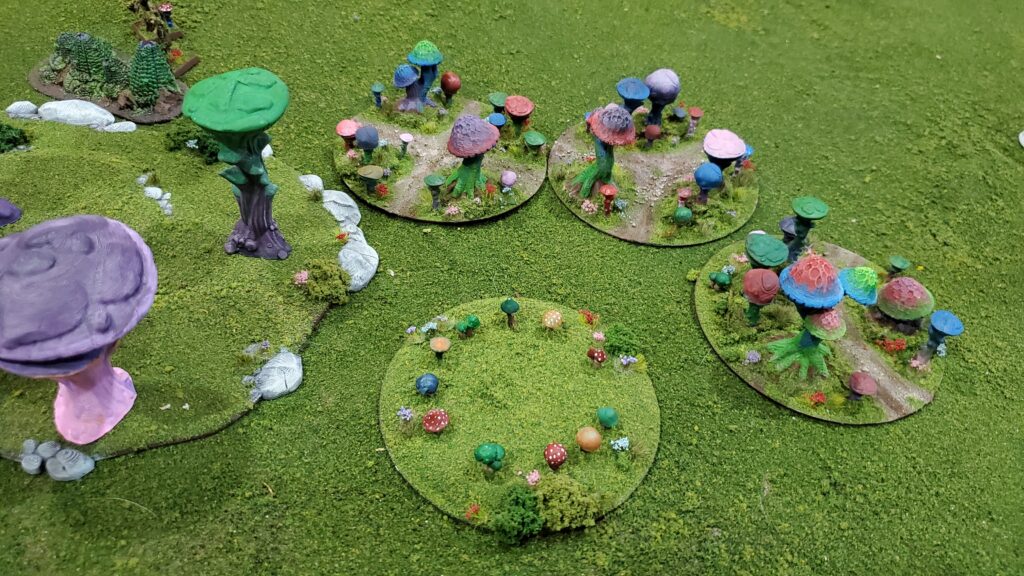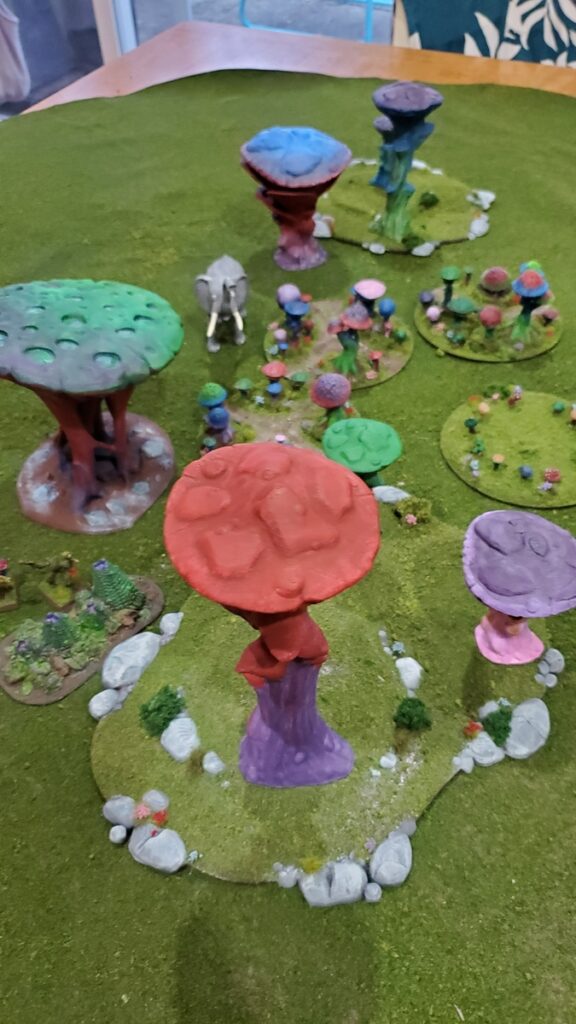 Some of the DFM shrooms still need another round of highlighting or glazing to finish them off, and the biggest one, the massive slope-topped multi-trunked one in the last photo, still needs it's base finished, flocked and detailed.
I'm really pleased with these Dark Fantastic Mills 'shrooms. The bundle isn't cheap, but you get huge dramatic pieces of scenery for your money that really stand out on the table! Go check Dark Fantastic Mills out, they've really harnessed 3d printing to make scenery that couldn't easily be made in other materials and their designs really are fantastic.