We've had a couple more Gaslands-by-webcam sessions since Corey wrote up his how-to and that's inspired me to finally get the first few cars built up properly.
I'd primed and painted these cars months ago and they probably even appear in a few of our game photos, but I'd rushed the painting so the primer was scratching off far too easily, and I really hadn't done much conversion.
I dropped the metal car bodies back in Simple Green to reset them to bare metal, then set about properly converting them into post-apoc Gaslands armed cars! Some time ago we'd done a group order to North Star for a bunch of their Instruments of Carnage plastic accessory sprues and those plus bits of plasticard from my parts box has gotten me three armed, up-armoured cars, all Gaslands Refuelled legal designs.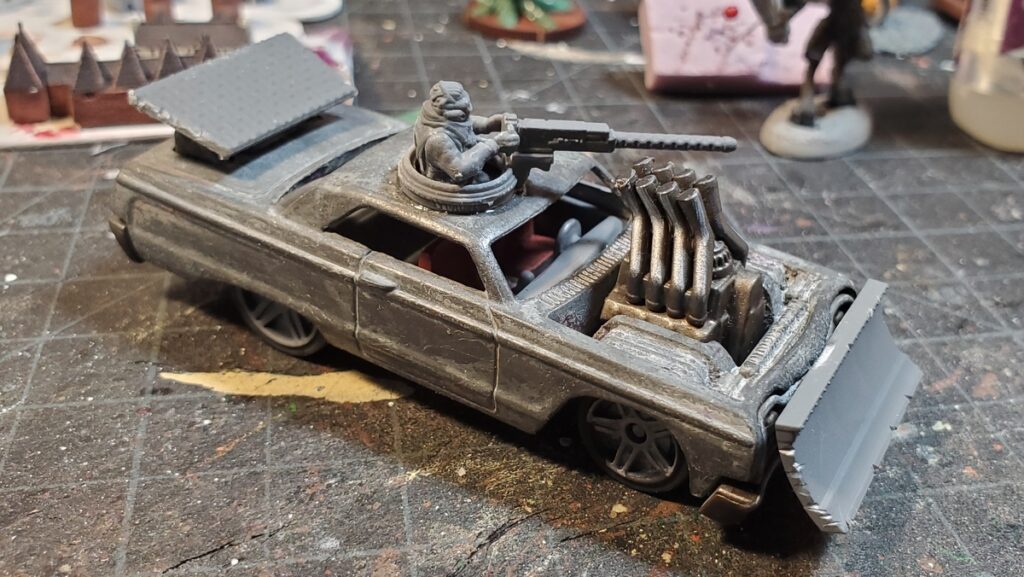 The first and largest of the three cars is Vlad the Impala, with a turreted MG or HMG, ram plate salvaged from a bulldozer blade, huge exhaust stacks coming directly off the engine block, and "spoiler" on the back hacked from a piece of sheet metal. The windows also got barred off with plastic strips.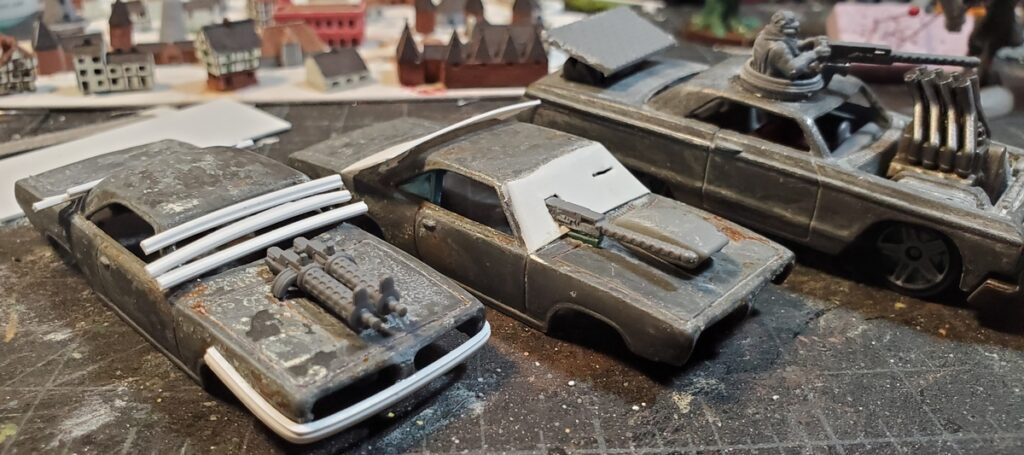 The two Barracudas are slightly smaller. One of them got an air scoop on the hood, a single HMG mounted alongside, sheet metal on the windows, and a dropped weapon (usually mines) off the back. Barracuda 2 got metal bar armour over the windows and reinforcing the front and back of the car, and a pair of MGs or HMGs on the hood.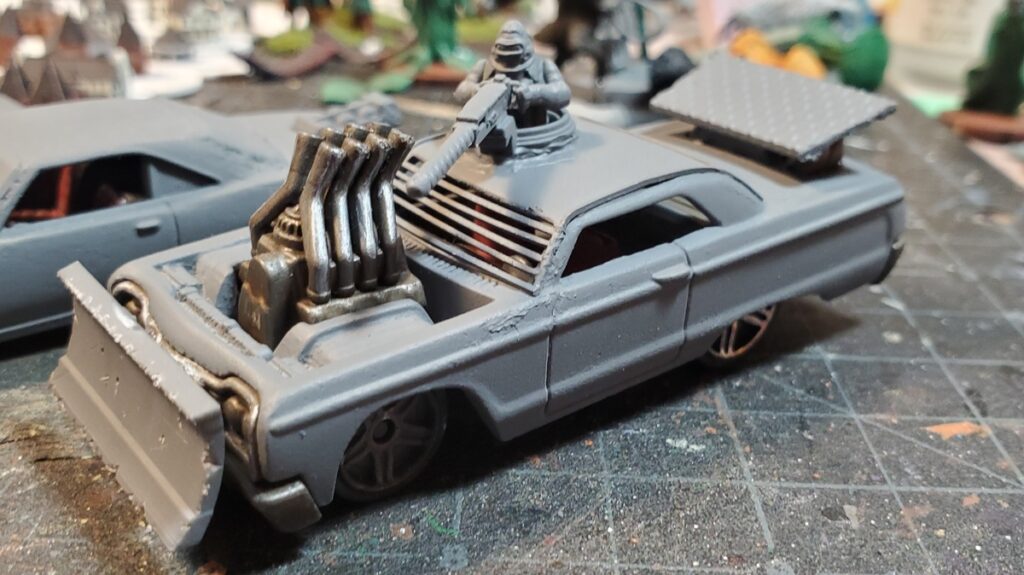 I'm pretty sure that one reason I had trouble getting paint to stick to the metal toy car bodies the first time I tried painting these cars was because I rushed off to paint before the primer coat had properly cured, so I'm going to put this trio aside for a couple of days to give the primer a chance to really properly dry and cure.

I haven't actually finalized a paint scheme for any of them, although I suspect Vlad the Impala will wind up red and black, with one of the Barracudas mostly purple and the other blue, just because. There are driver figures on the North Star sprues, but with all the window armour none of the driver seats are particularly visible, so I think I'll save them for other projects with more visible crew positions.
Given that our current COVID restrictions are running until at least mid-February at this point, I am probably going to finish all three of these and then drop them off at Corey's place, along with the jumps and other terrain I finished late last year so they can appear in our webcam games as lockdown drags on!