Today we find ourselves on Halite, the namesake planet of the Halite Commonwealth and homeworld of two separate intelligent species – the related lizard-like Qoss and the snake-like Yishk. On Halite is the cliffside monastery of Sheksha-kah, a famous religious centre in the commonwealth and a common retreat location for the wealthy and powerful to avoid unwanted notice or rehabilitate their image.
The Myth of Othaos
Perched high above the seas below on a narrow ledge, the monastery was founded by famous Halite scholar and skeptic turned prophet Othaos. They (neuter gender Qoss) famously boasted that "The gods don't exist" and lead a group of atheist scholars that were seeking to unseat the orthodoxy.
Legend says (as told by Othaos themselves) that they were on a small boat travelling to Scorzetti when a massive, unseasonable storm suddenly descended upon their little ship. Soon all hope for control was lost as the heavy waves and wind pounded them. For hours the storm raged, pushed them closer and closer to the menacing cliffs they were pushed. Othaos said they prayed to the Goddess Sheksha of the Light Moon (the larger of the two of Halite's natural satellites) in his time of need.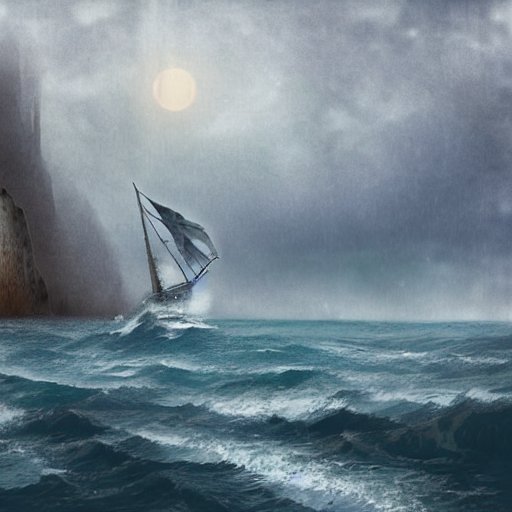 Shortly after midnight , the Light Moon broke through the clouds and illuminated them, pointing them at a gap in the cliffs. Through that cliff was a small protected beach and stairs up to the ledge high above the seas. Through skillful navigation, the small ship found its way on the beach, nearly swamped.
Othaos promised then and there to build the grandest monastery on Halite, the building that now stands on the ledge to this day. How much of this tale is true is left up to the reader.
Adventure Hooks
As the monastery often hosts the wealthy and powerful who are looking to avoid some public scrutiny or atone for a public failing, the possibilities for adventures include smuggling people or goods out of the monastery, a covert assassination or similar nefarious things. The monastery can only be reached by foot – either up Othaos' cliffside route or the newer path alongside the cliff. Both are under easy view of the monastery staff at all times, so any party would need excellent skills and some luck to pull off an action. Conversely, if defending the monastery the powerful storms that whip up in the seas below it often prevent easy reinforcements, so if players are defending the monastery, they might need to hold for quite some time with limited resources.
Authors Note: The above is also being rolled into an upcoming Sellswords & Spellslingers source booked tentatively called The Free Cities of the Rift, a Venice-like city in the world of Norindaal