Doing final organization for my Trumpeter Salute Russian Civil War game this evening, I did something I've never actually done in the two years of this project — laid out every single painted, game-ready RCW figure and model I have together. The lighting in my dining room is awful, so this is a terrible photo, but it's fun to see everything laid out for review!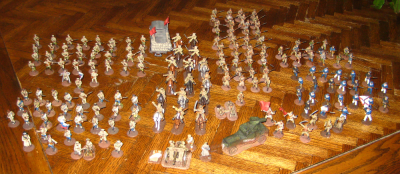 On the left, the White Russians. Officers and machine gun in front, two dozen Cossack riflemen, then a couple more officers, then 32 rifles from a regular rifle regiment. All of my White Russian figures are from Brigade Games.
In the centre, the 77mm field gun (nominally Red), sixteen cavalry, one armoured car, and one protected railcar. These figures are (so far, at least) all deliberately painted without much in the way of identifying insignia, so they can and have appeared for both sides in our games.
On the right, the Bolsheviks. Officers, machine gun and banners in front, and the long column is forty ordinary Red riflemen. Far right is twenty Red Sailors and their leaders, and behind them is the Red militia of 15 rifles. The Bolsheviks all happen to be from Copplestone.
This gives me a total of 56 White rifles, 75 Bolshevik rifles, and a grand total figure count (including gun crews) of exactly 190 figures, apparently. I'll tick over 200 fairly soon, as there's another round of White rifles to paint up. That'll pretty much finish off the regular infantry, although I do want another section or two of Red sailors. After that it's off to more of the toys and quirky bits, tchankas, armoured cars and such!